We don't wanna hear it's "too early" anymore.
Spooky season is officially over, so we are simply itching to get all cosied up in the festive spirit with this year's offerings of Christmas movies.
And with a selection that ranges from big budget must-sees, cheesy Hallmark-esque rom-coms, and sequels to the hits of Christmas past, Netflix is a great place to start.
The streaming service is adding a wide range of originals in November alone, so you don't have to wait 'til you've the deckies up to start feeling festive. Here's a list of new Christmas titles to watch this month, featuring some familiar faces.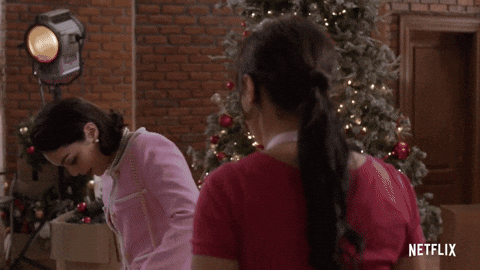 The Claus Family (currently streaming)
The first of the bunch is actually a Dutch film originally released in 2020, though the English dub kicked off Netflix's Christmas offerings this year on the first of this month.
Netflix's synopsis: When his grandfather suddenly falls ill, holiday-hating Jules learns of his family's magical legacy and realizes he's the only hope to save Christmas.
Love Hard (currently streaming)
Nothing explains the modern dating scene quite like catfishing, right? That's what Vampire Diaries alum Nina Dobrev learns in this film, anyway.
Netflix's synopsis: After meeting her perfect match on a dating app, an L.A. writer learns she's been catfished when she flies 3,000 miles to surprise him for Christmas.

Father Christmas Is Back (currently streaming)
What's Christmas without a bit of family drama? Ask Kelsey Grammar, who plays the prodigal dad of a family whose surname is Christmas.
Netflix's synopsis: Four feuding sisters get a crash course in family togetherness when their long-lost father shows up for Christmas at their posh ancestral manor.
Christmas Flow (available Nov. 17)
Unlike the others on this list, this one is actually a series rather than a film – and it's from Netflix France. But if you don't mind watching with subtitles, it might be the romcom for you.
Netflix's synopsis: An unlikely Christmas romance blossoms between a famous rapper and a tenacious journalist. But can they make it work despite their differences?
The Princess Switch 3: Romancing the Star (available Nov. 18)
Starring Vanessa Hudgens, Vanessa Hudgens, and yup, Vanessa Hudgens, this is the third instalment of Netflix's popular (though goofy) franchise.
Netflix's synopsis: When a priceless Christmas relic is stolen, royal look-alikes Margaret and Stacy turn to audacious doppelgänger Fiona -- and her dashing ex -- for help.

Blown Away Christmas (available Nov. 19)
Another series, this one is a crafty reality competition. Cosy.
Netflix's synopsis: 'Tis the season for five returning artists to fill the hot shop with festive designs. One will win cash for the stocking — a merry Christmas indeed!
Waffles + Mochi's Holiday Feast (available Nov. 23)
Michelle Obama's children's cooking show returns for a Christmas special. Cute!
Netflix's synopsis: On the first-ever Freezie Day, Waffles and Mochi learn that holiday traditions aren't just about food. They're about making memories with those you love!
Robin Robin (available Nov. 24)
Every Christmas needs a little animated stop-motion, especially when it comes from the same studio behind the likes of Wallace and Gromit and Shaun the Sheep.
Netflix's synopsis: An optimistic young robin raised by a family of mice makes a heartfelt wish on a Christmas star. Will she finally learn who she is — and how to fly?
A Castle For Christmas (available Nov. 26)
Ready for a perfect, cosy cheese-fest? Picture it with us: a rom-com where a very American Brooke Shields goes to Scotland and meets a castle owner (as you do) and wears far too much tartan than Scottish viewers will probably appreciate. We predict this will be Scottish people's Wild Mountain Thyme or Leap Year.
Netflix's synopsis: To escape a scandal, a bestselling author journeys to Scotland, where she falls in love with a castle — and faces off with the grumpy duke who owns it.

There's also Elves, a Danish festive horror series coming November 28, and A Boy Called Christmas coming to Netflix in the US on November 24 – but for Irish and UK viewers, it'll be available on Sky Cinema on November 26.