8 months ago
We just found the most stylish raincoat in River Island for €80
After a morning like that, we definitely need this.
There's nothing nice about rain. Unless you're on the set of a Notebook-style film, rain is mostly awful.
No matter what way you travel to work, you're soaked or late. If you get the bus or Luas, you become sticky from the amount of people boarding on; if you're walking you get wet feet and if you're driving you have to sit in traffic for ten years.
It looks like the rain will be sticking around for a while, so if you're sick of getting your coat drenched or feel like you own the most boring raincoat on Earth, take a look at this River Island beauty.
The monochrome number is so chic with its stripe print and drawstring hood (handy for when the rain is really bashing down!).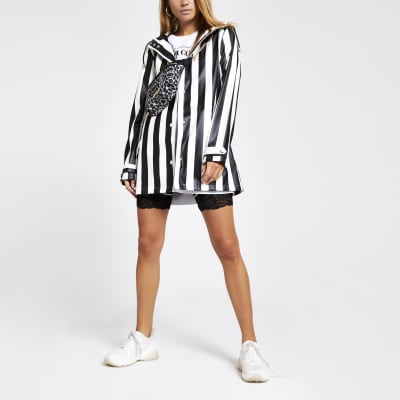 It has popper fastenings on both the front and the sleeves, so you can guarantee that no rain will get in!
What we love about it the most is the length. Many raincoats are way too shirt which means that water ends up dripping onto our thighs and bum. Not ideal. This sits just below that area so you have nothing to worry about.
For €80 it's something that you'll be able to wear all season long - and monochrome never goes out of fashion so you'll be good for next year too! You can check it out here.