1 year ago
We have just spotted the hot pink blazer of dreams in River Island
What a gorgeous piece.
If you're on the lookout to smarten up your look then you need to take a peek at this stunning blazer. You know yourself, sometimes just popping on a blazer over a pair of jeans and a t-shirt can instantly make it more glam - and this is certainly glam.
The hot pink jacket is double breasted and has black detailing on its pockets and buttons, making it a very striking piece.
We think it would be gorgeous over a casual look, but equally as fab on a night out with a pair of leather-look trousers and heels.
If you really want to go all out though, it comes with matching trousers. The suit would be the most ideal piece to wear to a winter wedding - just pop on a black lace cami underneath and you're good to go!
Advertisement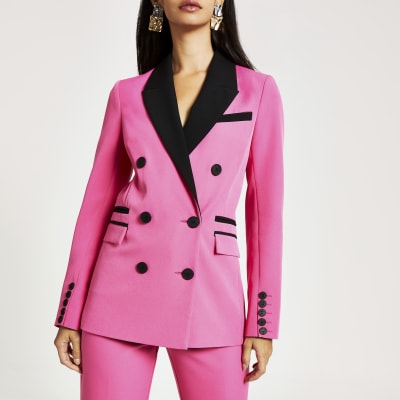 The blazer comes in at €100, while the trousers are €60. It's a little bit on the pricier end, however you will get so much wear out of both pieces over the winter months - and they will definitely be something you can bring into spring next year, too.
If you don't fancy the hot pink hue, the suit also comes in white version, which you can check out here.