1 year ago
It's Winnie the Pooh Day! Inspiring quotes from the gang at Hundred Acre Wood
"The sun still shines, even when it's hiding."
Today is officially Winnie the Pooh Day – a day honouring author A.A. Milne's birthday that celebrates the wonderful tales of friendship and adventure his creation brought to generations of children.
But it's more than just kids who can learn from Christopher Robin and his loveable woodland crew. The adventures of Pooh Bear, Piglet, Tigger, Eeyore, Kanga, Roo, Rabbit, Owl and so on contain life lessons for everyone.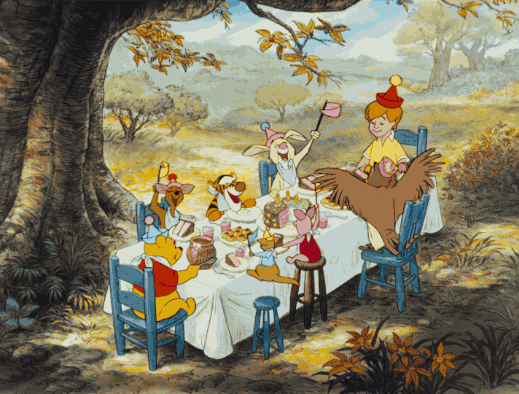 With this in mind, we've picked out some of our favourite Winnie the Pooh quotes from across all the books, series, films and songs that feature the gang at Hundred Acre Wood.
Whether you're looking for your next Insta caption or some words of inspiration for the wall of a kid's room, parents and kids alike can take something from these sweet messages about self-belief, friendship, hope, love and kindness.
Advertisement
"Weeds are flowers, too, once you get to know them." —Pooh
"It's so much more friendly with two." —Piglet
"A hug is always the right size." —Pooh
"Your friendship is the best present ever." —Tigger
"A friend is one of the best things you can have, and one of the best things you can be." —Pooh

"You're braver than you believe, stronger than you seem and smarter than you think." —Christopher Robin
"The sun still shines, even when it's hiding." —Pooh
"The things that make me different are the things that make me, me." —Piglet
"Life is a journey to be experienced, not a problem to be solved." —Pooh
"A little consideration, a little thought for others, makes all the difference." —Eeyore
"Just because an animal is large, it doesn't mean he doesn't want kindness; however big Tigger seems to be,
remember that he wants as much kindness as Roo." —Pooh
"If there ever comes a day when we can't be together, keep me in your heart, I'll stay there forever." —Pooh
"It never hurts to keep looking for sunshine." —Eeyore

"Those who are clever, who have a Brain, never understand anything." —Pooh
"I know it seems easy, but it isn't everyone who could do it." —Piglet
"Love is taking a few steps backward, maybe even more, to give way to the happiness of the person you love." —Pooh
"The nicest thing about the rain is that it always stops. Eventually." —Eeyore
"Rivers know this: There is no hurry. We shall get there some day." —Pooh
"If the string breaks, then we try another piece of string." —Owl
"I always get to where I'm going by walking away from where I have been." —Pooh
"One thing you should know, no matter where I go, we'll always be together." —Christopher Robin
"How lucky am I to have something that makes saying goodbye so hard." —Pooh