3 years ago
Backlash: Death threats to doctors... and Charlie Gard's parents are blamed
A backlash has begun - directed at Charlie Gard's parents - after it emerged that doctors are receiving death threats.
Supporters of his family want the 11-month old baby boy to be allowed to receive experimental treatment in the US for his terminal genetic disease.
He also has extensive brain damage.
A high court in London will on Monday decide his fate.
Over the weekend, it emerged that death threats have been made against doctors at Great Ormond Street Hospital.
The revelation has in turn sparked an angry backlash against Chris Gard and Connie Yates, who are both aged 31.
The couple have now issued a statement which confirms that they "are extremely upset by the backlash".
They added: "We do not and have not ever condoned any threatening or abusive remarks towards any staff member at Gosh."
Chris and Connie went on to say that they are "just ordinary parents with a very sick baby and we simply have his best interests at heart.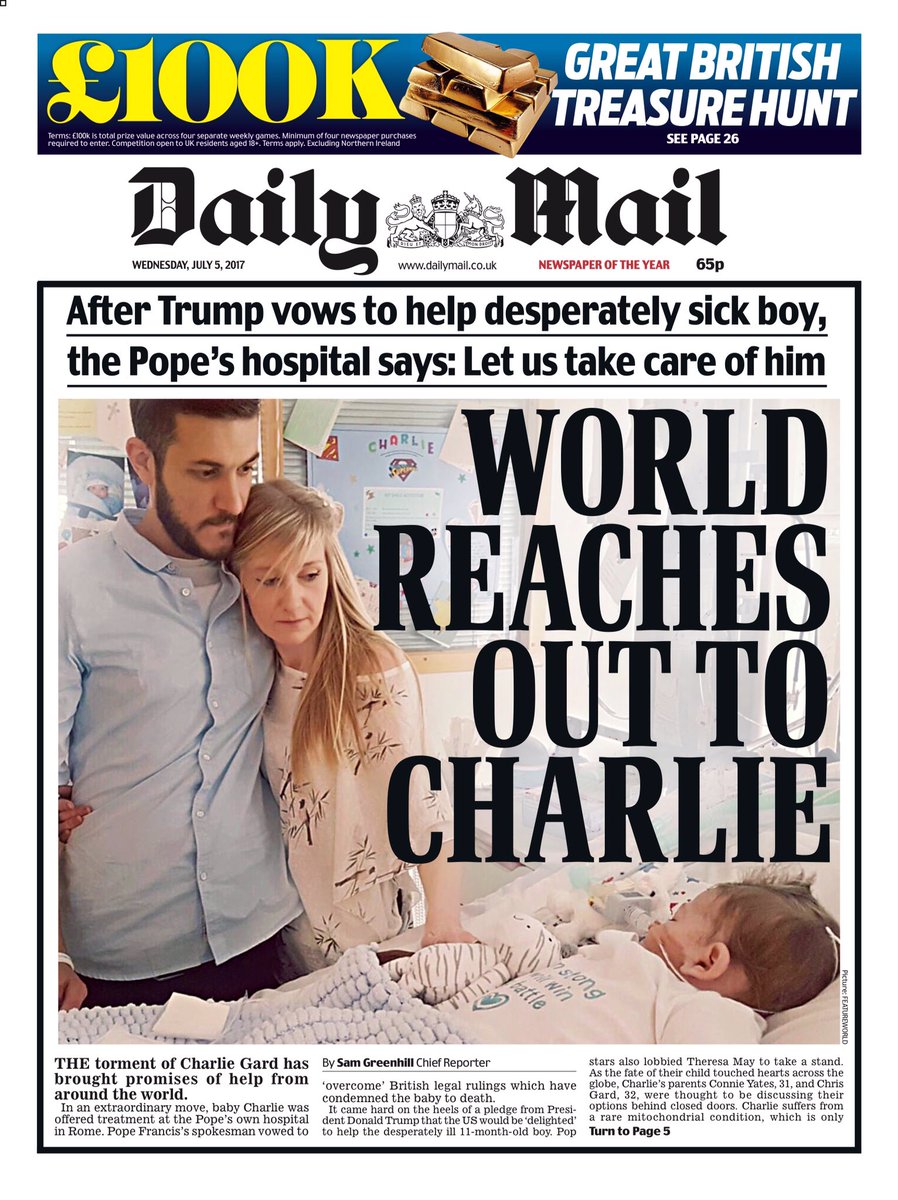 "Despite conflicting issues, we have always had the utmost respect for all the staff who work tirelessly at Great Ormond St hospital and the very difficult jobs they do every day.
"Like them we have been shocked by some of the public response to this case and agree with them that it is disgraceful that doctors have received death threats."
And although the couple have previously been critical of Great Ormond Street, the statement added: "Without the excellent care of the doctors at Gosh our son would not even be alive and not a day goes by when we don't remember that."
Their official spokesperson, Alison Smith-Squire, went on to say: "Chris and Connie are sweet, loving parents who've found themselves in a nightmare and who have worked tirelessly with doctors at Gosh to try to mediate for a resolution.
"People might not agree with them but as Charlie's parents they have simply been doing the best they can for their son. Charlie is their first and only child whom they love so dearly."
She continued: "Gosh is undoubtedly a remarkable establishment and we are all proud of its world-renowned reputation. It is one of our finest hospitals and equally does not deserve any abuse for doing what it feels is in the best interests of a patient.
"Of course people have differing opinions and this heartbreaking case provokes strong views. But it is time everyone refrains from making threats and nasty remarks to either the family or the hospital."
The Hospital maintains that prolonging Charlie's life further will only cause him more suffering. They are adamant that the experimental treatments offered to him will not work.
The say his life-support should be switched off and that he should receive palliative care until he passes.
Recently, hospital chairwoman, Mary MacLeod, confirmed that police have had to be contacted because of threats made against staff.
"Thousands of abusive messages have been sent to doctors and nurses whose life's work is to care for sick children. Many of these messages are menacing, including death threats," she confirmed.
To date, Charlie's parents have lost battles in the High Court, Court of Appeal and Supreme Court in London. Furthermore, they failed to convince the European Court of Human Rights to intervene.