2 years ago
This mum meal plans for an ENTIRE YEAR – and here is how she does it
Impressive.
Meal prep or meal planning are two concepts that have been increasing in popularity in the past couple of years. And for good reason. Not only are you making life easier on yourself by taking the stress out of trying to figure out what you are going to have for dinner any given day, but you are also bound to save money by planning out your meals rather than just impulse buying stuff at random.
Oh, and not to mention it is bound to do wonder for your family's food waste too.
Most people meal plan for the week ahead, maybe even a fortnight if you really want to get ahead of yourself. However, this Australian mum has broken the record by making a meal plan for her family for the whole year. And her efforts will no doubt impress you.
Jessika Kelly is a working mum-of-three, and having gotten into planning an entire 12 months of dinners, says she will now never go back to weekly meal planning again.
"Working out what to make each night for dinner has always been draining for me," the 33-year-old told Kidspot.
"We often get home later in the afternoon/evening with sporting and therapy commitments so it was getting difficult to juggle it all.
Goodbye, dinner stress
So one day when she'd had enough of the relentless dinner stress, the clever mum downloaded this calendar and filled the entire year with the family's favourite meals.
Advertisement
Among them were stir fry, butter chicken, nachos, meatloaf, lasagne, roast pork and pizza, to name a few.
She even slotted in dates where the family would be treated to a meal out.
Almost two months in, Kelly says the system has been a life-changer for her busy household.
"It's made life a lot easier," she explains.
"I now do one grocery shop (click and collect) on the weekend based on the meal plan. I plan meals that are re-heatable for my work nights so I make them the night before when making that night's dinner and just do one big clean up. I also put anything that needs thawing-out the night before so it's ready to cook."
It's also been particularly helpful when she hasn't been home to prepare dinner.
"On the odd occasion my husband is home before me he will jump in and start cooking from the plan," Kelly says.
Advertisement
"We are eating better as I'm not as likely to buy dinner on the way home. Getting home and cooking is just as quick when things are thawed or ready to reheat."
Oh, and she didn't stop at dinners
Ever the organised mum, Kelly also stocked up 120 school lunches in the freezer, ready to be heated up and popped into her kids' thermos containers.
"They have mac 'n' cheese, shepherd's pie, enchiladas and lots of other things," she explained.
"My daughter with special needs is on a gluten and lactose-free diet and also needs to have soft food for chewing reasons so I chose the lunches based on this. With the diet changes, I was always stressed about what to put in her lunch so I find a day of cooking and freezing for the kids has saved a lot of time in the morning with lunches."
The organised mum was so proud of her efforts that she shared her success with Mums Who Cook, Clean and Organise - Australia Facebook group, where many were – rightfully so – seriously impressed by her efforts.
"I've been on this page for about a year and this is incredible, I've never seen anything like it!!" one wrote.
"Thanks for this. I am in awe. I really am going to give this a try!" another commented.
"Woah a whole year of meal planning! Well done! It does my head in just trying to do one week!" one chimed in.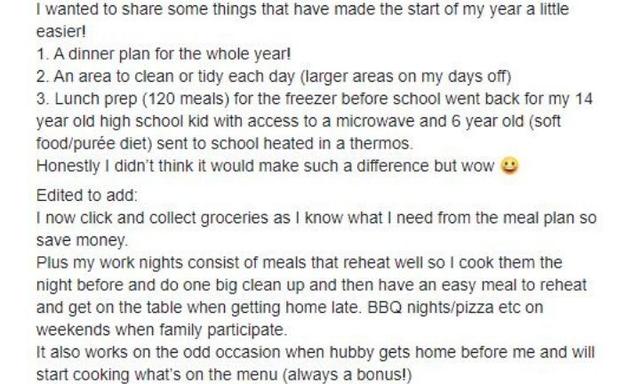 Source: Facebook