2 years ago
'No beneficial function': The reason you should never let your baby use a walker
There are cute pictures of me as a baby in the Eighties - with me sitting delighted and smiling in a baby walker.
In the end, and some 30 years later, I never actually got one for my own kids. That was primarily because when my daughter was born five years ago, we lived in an apartment and a walker just wasn't practical.
However, I read recently that walkers are now a seriously controversial accessory - with plenty of experts warning parents to avoid them entirely.
Indeed, following research the European Child Safety Alliance released a statement in October 2010 stating that babies using walkers are at a much higher risk of:
Head injury
Falls
Burns
Scalds
Poisonings
The organisation added that "baby walkers serve no beneficial function for children," and that "baby walkers do not help babies learn to walk - they may, in fact, hold up walking ability rather than help it".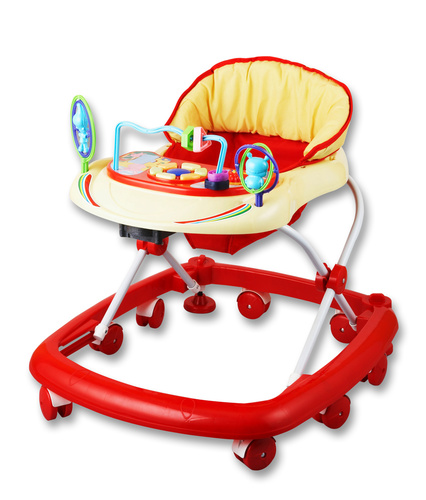 Advertisement
The statement went on to recommend that:
Parents and caregivers use safer alternatives to baby walkers such as playpens and stationary activity centres.
Health care providers do not promote baby walker usage.
Health care providers educate parents early about the risks of baby walker use.
In hindsight, of course, a baby placed in a walker is more likely to fall down stairs. And of course, the devices allow little ones to reach things - including boiling kettles or a frying pan - that they ordinarily wouldn't be able to. Furthermore, it makes sense that a baby will be less inclined to walk unaided if they're used to a walker.
In Ireland, the HSE has expressed its own concern about the injuries "caused by the use of this non-essential product".
It goes without saying that careful, ongoing supervision is vital when you have children - especially so if they're using the likes of a walker. That's because a child in a baby walker can reach speeds of one metre per second... much faster than an adult can react to prevent an injury.
More detailed information on injuries associated with baby walker use is available: via childsafetyeurope.org and anec.eu.