1 year ago
This €55 River Island midi dress is perfect if you have a fancy event coming up
Have a night out coming up?
Whether it's your mate's birthday or dinner with your other half, it's nice to get dressed up from time to time.
We've gotten to used to going to casual route for nights out so it's quite refreshing to get all dolled up for a big occasion.
However, with the colder months looming we're looking out for clothing that's equally fancy and warm - so when we spotted this River Island dress, we knew it was going straight on our wish list.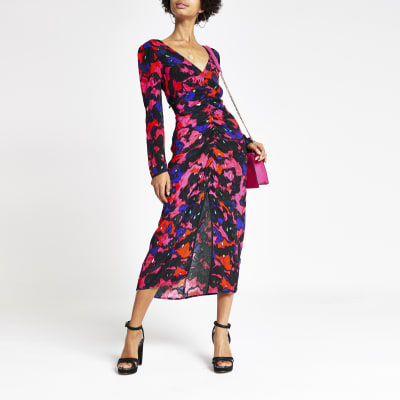 The midi dress is a mix of black, pink, blue and red, with ruched detailing on the front. It has long sleeves and a v-shaped neckline, so while you'll be mostly covered up, it's still quite flattering.
The dress is available for €55 and we're sure it's going to be something that you can wear from now, all the way to Christmas and beyond.
Advertisement
Another dress we totally fell in love with is this black and white mini.
Featuring everyone's favourite go-to print, polka-dot and the trend of the season, ruching, it's sure to be a popular piece with fans of the brand.
It's the perfect party dress to buy now and save for when all those nights out start happening, it always gets a little hectic from October on even if we're not quite ready to talk about the festive season.
This is the Black Polka Dot Ruched Mini Dress and we have to say it looks like it could be a designer piece. You can find it here.