1 year ago
5 Irish children's books for Christmas reviewed by under-6s
Kids, eh?
I have two, Michael who is aged 5, and Juliette, who is 4.
When you see them bouncing off walls, shouting to watch Pokémon, or insisting they need your phone for important spy-related work, it always seems incredible to me that old-fashioned words arranged on boring paper can not just hold their attention, but fire their imagination.
Reading stories with your kids is one of the best things about being a parent. Soon enough my pair will disappear into a book on their own so we enjoy it when we can.
My crack reading team and I had a look at some Irish books available this Christmas in bookstores and these were five of our favourites:
Eggcorns by Chris Judge
An idea borrowed from the Adam and Joe Podcast, Eggcorns is a book that celebrates misheard and mispronounced phrases and words by children. The brilliant Irish illustrator, Chris Judge, put the call out for Irish eggcorn ideas that he could bring to life.
He was overjoyed to get over 1,000 replies.
Advertisement
Turning these eggcorns into a small but mighty book has resulted in a really sweet, often hilarious collection, that would be suitable for very young readers all the way up. My children got so many great laughs from eggcorns like hippobottomus (Hippopotamus) or rollertoaster (rollercoaster) or Michael's personal favourite, michaelwave (microwave).
What I really loved about Eggcorns is that children's books can often be a passive experience for very young children - the adult reads and the kid listens, but the magic in this book is it only requires only one word and an illustration to open up thoughtful conversations... "would the hippobottomus need an-extra big toilet for its enormous butt?", "could you put a pizza in a roller toaster?", "does the Michaelwave mean that I'm famous now?"
Girls Play Too by Jacqui Hurley
I was really looking forward to reading this book with my pair. They both play sports, but he is much more interested at his age than she is at her's. So, I wanted Juliette to hear about the brilliant sportswomen Ireland has produced to ensure that she knows well, yeah... girls play, too.
The inspiring stories of how young female athletes found their way in sport are presented as fairytales, a very effective device not just because it engages younger readers, but also because the scale of some of the achievements is scarcely believable.
Reading Jacqui Hurley's pen picture of Katie Taylor to them at bedtime, it finishes with the line, "having conquered all she could in the amateur game - with an Olympic gold medal, five World titles and six European titles - Katie turned professional in 2016. Within three years, she won every belt possible, to become the undisputed lightweight champion and one of the best boxers the world has ever seen."
Advertisement
At which point Michael turned to me and repeated his favourite phrase of lockdown, "for real, Dad?"
For real.
And that's before you get to the most successful player in the history of Gaelic Games (Rena Buckley), or a woman who has represented Ireland at basketball, rugby and Dublin in Gaelic football (Lindsey Peat).
I couldn't recommend this powerful book highly enough, essential reading for young boys and girls.
Is there anybody out there? by Dara O'Briain
This book, billed as science-fact over science-fiction, opens by asking and answering the titular question... So, is there anybody out there?
Answer: NO.
Advertisement
Also the answer: Well, maybe...
Both my kids love space. My daughter likes to sing The Planets Song. A lot. Whadaya mean you don't know The Planets Song?
It's stacked full of facts about outer space, aliens, and close encounters of a third kind.
There is no such thing as a children's coffee-table book - caffeine and kids, they'd never sleep - but if there was this would be it. It's an ideal book to pick up, flick through and learn about stuff like the canals of Mars, building your own planet at home and the 96 bags of poo left behind by astronauts on the moon.
Go, Johnny, Go! by Paul O'Flynn
Told by RTÉ News and Sport presenter, Paul O'Flynn, Go, Johnny, Go! is the story of Irish rugby international, Johnny Sexton.
He uses short and punchy sentences to create a vibrant and exciting story that follows the Leinster and Ireland player's career to date.
Advertisement
O'Flynn worked with the Dyslexia Association of Ireland to make his story as accessible as possible for readers. The font is designed specially and the words are spaced to make every sentence easy to read and the key moments stand out in bold. The idea is to engage young minds in a sporting tale that captures their imagination to the point they don't even realise they're reading.
One in ten people in Ireland have dyslexia, which means on average three pupils in every class will have difficulty reading.
As the author explains:
"The key to helping them is to make them realise they're every bit as smart as their classmates, it's just that their brain just works in a different way. Encouraging a young person with dyslexia to read can be like asking somebody who is bad at art to draw every day. They try to avoid it and find ways to get out of it as a means of escape."
This book is aimed at 6 to 12-year-old readers and my kids loved the action sequences and the pace of the story.
This is the first book of a series on Irish sporting legends by Paul and we're looking forward to more.
The Dead Zoo by Peter Donnelly
Advertisement
As all parents know, reading books with your children at bedtime is lovely but it also serves a sneaky purpose - to drop the pace and subtly convince them to put their head onto a pillow so you can go and watch The Queen's Gambit.
It's fun and it's useful but after a long day, it can be easy to slip into autopilot, reading out stories that, whilst engaging the younger minds, are easy to switch off from.
But then there are words and pictures that are impossible to ignore. Irresistible stories, with nuanced characters, zingy humour, and important messages perfectly blended to create pure magic. The Dead Zoo is an example of this kind of alchemy.
This is author/illustrator Peter Donnelly's fourth book following on from his highly successful, Michael D. Higgins-themed trio of stories - The President's Glasses, The President's Cat, The President's Surprise. There's no Miggledy here but there is the Dead Zoo, a story inspired by Dublin's slightly weird Natural History Museum. Located in the centre of the city, it has excited and enthralled children and adults for decades.
The smart and engaging story set in the Dead Zoo follows a real live mouse who decides to move into the museum only to encounter its colourless, grumpy owner, Mr. Gray. It syncs up perfectly with Donnelly's beautiful illustrations.
That's what I think, of course. It also passed the 'again test' with my kids. Whenever we finish reading it, I'm asked to do it all over again.
An instant classic.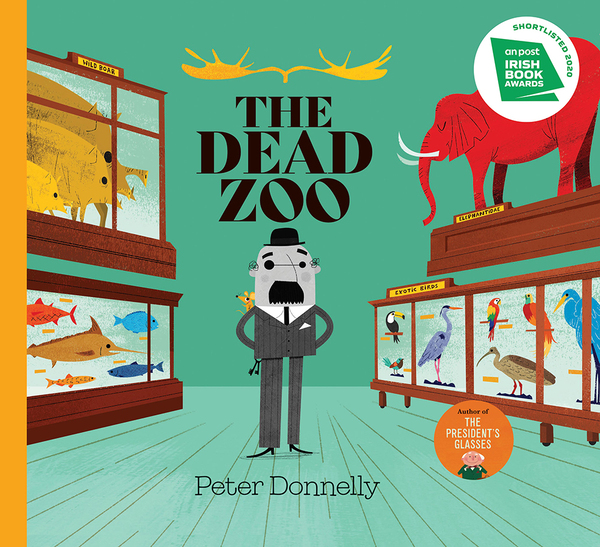 Thank you to Eason for supplying the books for review.